Govinda Club Budapest
If you are not afraid to think differently
Every Tuesday @6pm
Govinda Club is a once a week gathering for open-minded seekers, for those who are not satisfied with materialistic values and looking for a spiritual meaning to life.
Every Tuesday evening we have guest speakers and informal discussions on questions about the world, transcendence and ourselves. The programmes start and finish with chanting and mantra meditation to create the right atmosphere for elevating our consciousness. And at the end, we invite everyone for a light snack of lemonade and sweets.
Govinda Club is free and open to everyone.
Venue: 1051 Budapest, Vigyázó Ferenc utca 4.
Homepage:https://govindaklub.hu/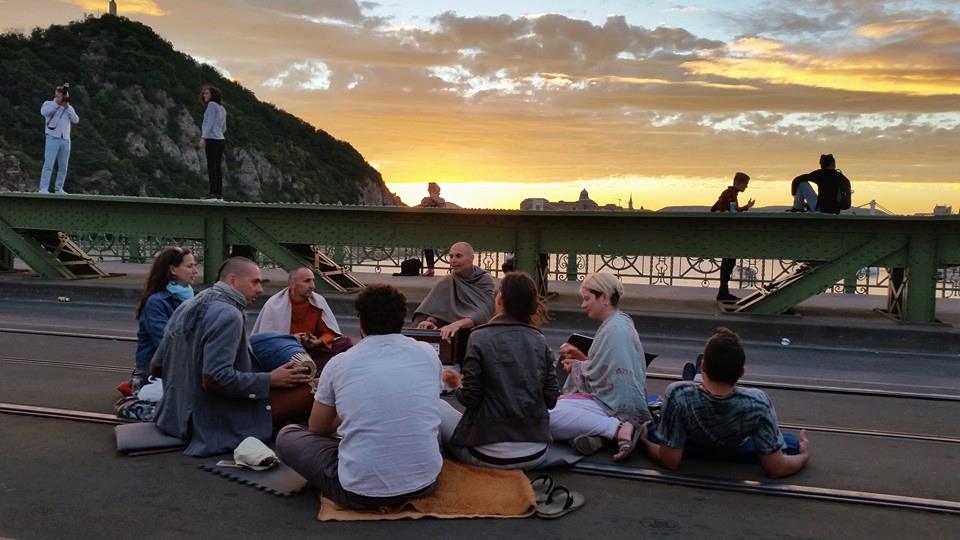 Budapest Kirtan Jam
Every Friday @6pm
Friday evenings from 6 pm, we welcome everyone to our community mantra night, the Budapest Kīrtan Jam.
What is kīrtan and how does it become jam? The basis of kīrtan is mantra, a Sanskrit word that is made up of manasa and trāyate. Manasa means mind or consciousness and trāyate is to liberate. In other words, mantra is the sound or combination of words that will liberate our mind or consciousness.
The second element of kīrtan is music. Using music, kīrtan appeals to and focuses the mind. Chanting the mantra to different tunes and rhythms, we create dynamic, collective meditation. And last but not least, the third but indispensable ingredient is You!
So the participants, the music and the mantra combine together to create the kīrtan jam. Professional musicians and spontaneous participants, newcomers and seasoned jammers, shy people and confident singers all take part. It doesn't matter who you are, just add your own individual flavour to cook up a guaranteed extraordinary experience, the sweetest Kīrtan Jam!
The Event is FREE and everyone is welcome!
Besides the regular programmes we plan to have lots of exciting events through the summer: camps, walking pilgrimages and festivals.
Venue: 1051 Budapest, Vigyázó Ferenc utca 4.
Website:https://govindaklub.hu/
Govinda Club Debrecen
Music, discussions, meditation
Every Friday @5pm
Are you looking for unique flavours and nourishing, healthy food? Do you want to know about the goal of life and how to attain spiritual peace? Do you want to chant and dance with others or have a stimulating discussion on exciting topics? Debrecen Govinda Restaurant welcomes you with delicious food and inspirational programmes.
The Restaurant doubles as a cultural centre. It is located near Kassai Road with parking spaces, outdoor seating and a wonderful indoor 'island of peace'.
Govinda Club Debrecen Friday programme:
5 pm: lecture
6 pm meditative chanting (bhajan)
7:30 pm feast
Venue: Debrecen, Magyari utca 2.
Facebook page:https://www.facebook.com/groups/277934242702143/
Eger Govinda Club
Every Wednesday @5:30 pm 
Every Wednesday evening from 5:30 we have a discussion session aimed especially at young people. We discuss the great questions of life, learn about the answers given in the Vedic literatures, play traditional Indian music with Oriental instruments and try our hand at Indian cooking. We go on picnics and hiking trips. There is a growing interest among university students in these open and free events that build a real team spirit among the participants. 
Venue: Eger, Tűzoltó tér 5. (Govinda restaurant)
Contact: Śraddhā Nṛsiṁha dāsa (Hüvelyes Lajos), tel: 30/483-9229.
Closed FB group:https://www.facebook.com/groups/323947061302588/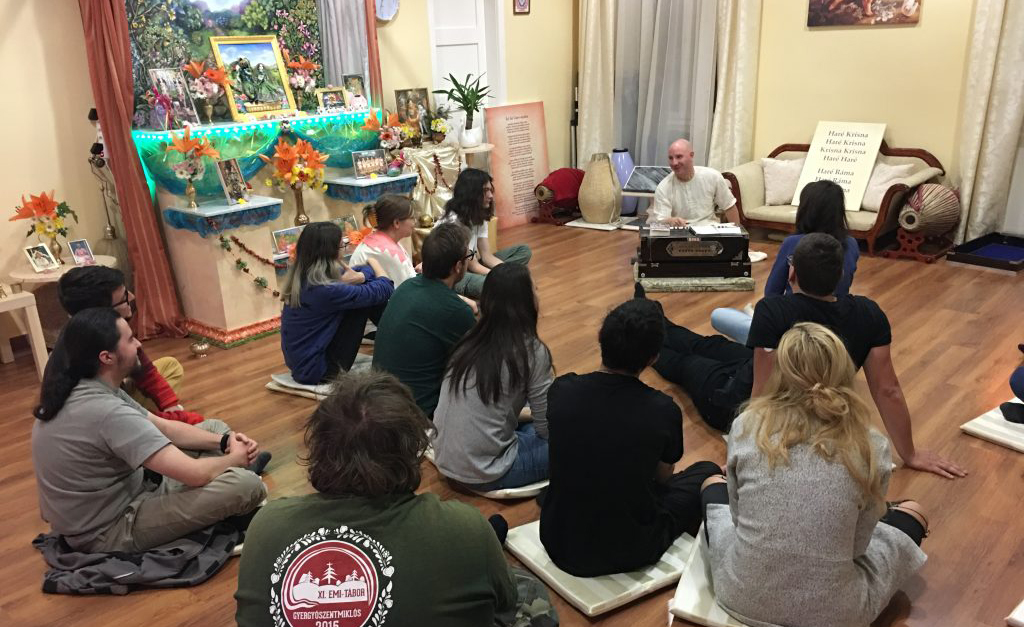 CONTACT
---
Magyarországi Krisna-tudatú Hívők Közössége 1039 Budapest, Lehel utca 15-17. [email protected]