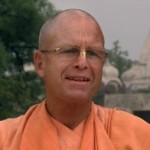 Dear Facebook Friends,
Yesterday I mentioned the power of Akshaya Tritiya. Please give this message a careful reading .. and please consider how you could help.
Eighteen years ago I attended an amazing transcendental festival in Hungary.
That festival was the installation of Sri Sri Radha Shyamsundara at the Krishna Valley Farm Community in Hungary.
Their temple was completely designed, built, and decorated by the expert devotees of the Hungarian Yatra.
I am assured that all of you friends and devotees, who have seen pictures of Radha Shyamsundar and Their temple, can attest that this temple is one of ISKCON's most beautiful projects. Over the years Sri Sri Radhe Shyam, Their immaculate temple, and Their high standard of worship have given me much inspiration.
And anyone who has ever purchased a bead bag at Ganga Prasad's Shop in Vrindavan has undoubtedly seen the smiling, effulgent, and ever-mischievous face of Sri Govardhan Lal.
Now, my dear friends, here is a wonderful opportunity for you to connect with and serve Sri Sri Radha Shyamsundar and experience Their immense power of spiritual inspiration.
Please bear with me as I tell you how …
On a very rainy Janmastami in 1996 I had the great fortune of being allowed to sing the kirtan as the deities were installed. They were placed upon a beautiful and glorious simhasana that had been made by the super-artistically-empowered devotees of the Hungarian Yatra.
On that day many thousands of visitors filled the temple for Sri Sri Radhe Shyam's darshan. It was truly a historic day for the Hungarian Yatra and for our entire ISKCON society.
The high standard of worship offered to Radhe Shyam, and the fact that Krishna Valley has been a leading proponent and practitioner of community self-sustainability, has been another "Star In The Crown" towards the fulfillment of the desire, and legacy, of His Divine Grace Srila Prabhupada.
While the devotee community was constructing the temple building, the beautiful altar, and the temple room art, was being handcrafted by the local devotees.
A team led by Master Citta Hari prabhu, Master Visvambhara prabhu, Master Taralakshi mataji, and many others, created "negative" molds and then cast "positive" altarpieces, from a plaster of Paris/Resin material.
The altar was then assembled and the Master Artists of the Hungarian Yatra painted the altar gorgeously.
The Temple Room was also decorated in the highest artistic fashion with beautiful paintings of Sri Krishna's lilas.
Then, upon that effulgent throne, the Deities of Sri Sri Radha Shyamasundar, Sri Govardhan Lal, and Sri Gaura Hari, were installed.
And now, by the effect of eternal time, that gloriously beautiful simhasana, which was created by the devotees of Krishna Valley, has started to wear and crumble away.
Friends, almost twenty years later, the Deity's altar areas and main pujari rooms are in need of a complete renovation.
Due to the urgency of the situation, the Hungarian Yatra has called upon the most expert Master wood-carver/carpenter in Hungary to replicate Radhe Shyam's Simhasana in the finest Oak wood.
He has also been engaged to carve two smaller matching Simhasanas:
One is for the Deity's bathing area … and the second is for the bed upon which the Deity's rest in the night.
In addition;
The devotees will replace the existing marble floor, bed, bathing seat, and walls;
Then, the devotees will install a new nature-powered "under the floor" and "in the altar" heating system.
Consider … A Naturally Heated Altar!!
That's an innovative and captivating idea!!
Well, dear friends, let's all agree … Happiness is a Warm Deity
The devotees will also replace the skylights, which provide the majority of the daylight lighting … and they will also repaint the back wall mural of the altar room.
And to ice the cake … all of the fine artwork, gold leafing, and painting of the simhasanas will be done so that they will appear exactly as if they were made from the finest Italian marble.
This demanding service will engage a team of devotees for an entire year.
But the end result will be an offering to Radhe Shyama of an extremely beautiful, long-lasting, and durable place of residence.
In addition to the extensive work in the Deity's altar room, the devotees of New Vraja Dham will expand the size of the main pujari and Deity preparation room.
They will add new shelves for storing the Deity's ornaments and jewelry, an area to keep the exquisite dresses of Sri Sri Radhe Shyam, and many shelves for keeping the paraphernalia of worship.
They also plan to install under-floor heating and new tiles in the pujari rooms.
Dear Friends in Krishna Conscious Facebook World;
If all of us can assist to accomplish this plan, there will be a complete renovation of the altar and complete renovation of the pujari area.
Then the very devoted pujaris of New Vraja Dham will have better facility to serve Their beloved Sri Sri Radha Shyamsundar … Who will also be in an excellent renovated facility.
The total cost of the renovation project is budgeted to be $400,000, or, for our European family friends, Euro 290,000.
By the kind donations of the Hungarian congregation, the locating and engaging of the master woodcarving artist of Hungary, as well as the purchase of required wood, has been accomplished.
The deities of Sri Sri Radha Shyamsundar will be moved to a temporary altar on October 1, 2014. At that time the construction and artwork will start in the deity and pujari rooms simultaneously.
Then the work will commence, as Prabhupada would like to say, "in full-swing."
When the services are completed Sri Sri Radha Shyamsundar will return to Their new simhasanas, a new altar room, and in Their new home Their worship will gloriously continue.
Dear Friends, please, I need your kind help.
Previously I asked you all to assist with helping the young devotee from Kazakhtan, Shyam Prabhu, in his battle against cancer. I was amazed to the point of tears how much you all opened your hearts to assist.
Shyam waged a glorious battle, but Sri Krishna ultimately called him to return and serve in His association.
Then I requested your assistance for my dear god-sister and spiritual mother, Laxmimoni Mataji, for her hip replacement.
Again, your support was outstanding and overwhelming.
In my correspondence with Laxmimoni Mataji she has told me that her operation was a total success. In her post-operative condition she is gaining strength and mobility day by day. Soon she will begin hydrotherapy to gain more strength and coordination.
So, once again I am making a very humble appeal to my many friends on Facebook …
Please render devotional service, according to your strength and ability, for the reconstruction and renovation of Radhe Shyam's Altar and Pujari Rooms, at New Vraja Dham in Hungary.
Together we need to raise $400,000 … Euro 290,000.
If you can offer a single Dollar/Euro, or five Dollars/Euros, or Five South African Rand, or Five Rubles, or Five Rupees, or even more, then we will be able to see the accomplishment of this great service.
Please remember the timely adage, "many hands make light work."
And gosh, as I am the shameless BB Govinda Swami …
If you can offer the entire sum, I will speak on Bhagavad Gita in your home till your ears burst and your eyes pop out,
I will relish your tasty prasadam till I gain another ten kilos, and Holy Smoke, I am already 10 Kg overweight,
Then, I will waddle like a duck, fall over in a dazed state of happiness,
and with a team of crazed devotees, I will sing kirtan in your home till a herd of transcendental Saurabhi cows come to your doorstep … and fulfill your innermost secret spiritual hankerings!!
I can honestly say that I have experienced very deep and wonderful, heart-moving kirtans in the presence of these Deities.
In short, Radhe Shyam really let Their Krishna conscious mercy flow, and flow, and flow … and then … flow and flow and flow much more.
If any of my friends would like to contribute to this great service, and taste Radhe Shyam's sweet reciprocation, there are different methods by which you could send your contributions.
By bank transfer you can use the following:
Account Holder (Beneficiary account): MKTHK
Address of the Account Holder: Lehel utca 15-17.
Town: Budapest
Postcode: 1039
Country: Hungary
IBAN: HU52 1040 0951 4957 4954 4855 1110
Swift Code: OKHBHUHB
Name of the Bank: Kereskedelmi es Hitelbank
Address of the Bank: Vigado ter 1
Town: Budapest
Postcode: 1051
Country: Hungary
Or … If it is more convenient …you can contribute via PayPal;
[email protected]
Note … Temple renovation
And For My Friends in Russia and Kazakhstan:
You can transfer money to QIWI Wallet:
+79267332048 (Note: New Vraja Dham renovation)
Dear Friends … Today is Akshaya Tritiya.
What spiritual activity you undertake today will never end .. It will increase throughout eternity.
So, please stop for just one minute and consider this appeal.
Then, I humbly request you all, open your hearts widely and assist.
I have seen in the past, whether large or small, every penny that you have contributed for the service of Lord Krishna and His devotees has helped immensely.
Your selfless donations have contributed for a project, more importantly for the seva of the holy vaisnavas, and most importantly for our personal cultivation of the selfless mood of pure devotional service.
I thank you all in advance.
Please share and pass this message to all of your friends on Facebook.
I pray that together we may receive the Divine Grace of Srila Prabhupada, Sri Sri Radha Shyamsundar, Sri Govardhan Lal, Sri Gaura Hari, and all of the blessed vaisnavas who serve at New Vraja Dham at Krishna Valley in Hungary.
Thank you all so much.
Hare Krishna … And much love in the mood of full Krishna Consciousness to you all.
Affectionate regards.
Your servant,
BB Govinda Swami